LAS VEGAS BUNK BED ROOMS AT THE FLAMINGO← Back
---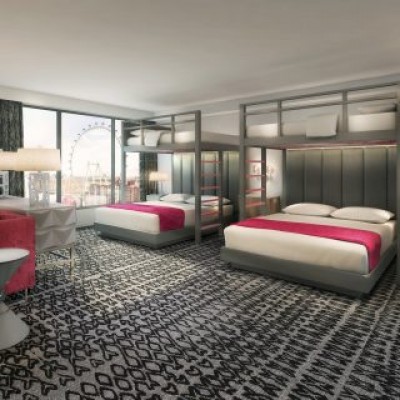 DOUBLE THE FUN WITH THE FLAMINGO LAS VEGAS' BUNK BED ROOMS
If you ever had a bunk bed growing up or at least slept in one, you know just how fun they are.
Mix those fond childhood memories with a dose of Vegas style, and you have Flamingo Las Vegas' latest additions to its room lineup.
NEW LAS VEGAS BUNK BED ROOMS AT THE FLAMINGO
The
Bunk Bed Suite
is nearly 1,000 square feet of stylish comfort, perfect for a family, a large group of friends, or hosting a fun get-together — bachelor / bachelorette party, anyone?
It features a 550-square foot parlor and 430-square-foot bedroom with two queen beds, each with its own full-size overhead bunk. You can fit up to six people in the bedroom.
The parlor area includes oversize lounge furniture and a full kitchenette, so you have space for all sorts of fun and games.
At 515 square feet, the smaller
Bunk Bed Room
also includes two queen beds with full-size overhead bunks, along with a separate vanity area and still-generous living area.
This room sleeps six as well, and is well-suited for groups who just want a comfortable – but ever so fabulous – home base between all their Vegas activities.
Both rooms (as well as all of Flamingo's renovated rooms) showcase contemporary, retro-chic designs that celebrate the resort's rich history, featuring vibrant gold with bright pops of flamingo pink.
If the whole bunk bed thing rings a bell, that might be because Flamingo's neighbor, The LINQ, has its own bunk bed option as well.
LINQ HOTEL'S LAS VEGAS BUNK BED ROOMS
The 300-square-foot
Bunk Bed Deluxe Room
features two queen beds and one full-size bunk, so it sleeps a maximum of five, and it's also located centrally on the Las Vegas Strip.
While you won't have the same sprawling space as the Flamingo options, it's a ridiculously stylish and comfy room with a competitive price, perfect for a spur-of-the-moment weekend in Vegas with the pals.
About the author: Jorge Labrador
Jorge has been writing in Las Vegas for about a decade, covering a mix of entertainment, nightlife and travel offerings for publications like Best of Las Vegas, Las Vegas Weekly, Los Angeles Times and Louisville Voice-Tribune. In his spare time, he's traveling, at pub trivia or not playing his stack of video games.