NHOW FRANKFURT AM MAIN: A FUSION OF ART AND MONEY← Back
---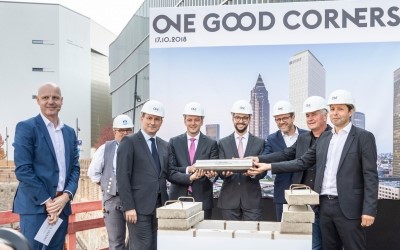 In 2021, nhow Frankfurt opens as a four-star hotel with 375 rooms and recharges the ONE skyscraper in the booming European Quarter as a place of inspiration, relaxation and creative exchange. nhow Frankfurt will orientate itself on the image of the financial location and reinterpret art and money. Guests can look forward to a public sky bar with a rooftop terrace offering a unique view over Frankfurt and the Taunus, which will be operated by nhow Frankfurt.
Ascan Kókai, Senior Director Development & Asset Management Northern Europe at NH Hotel Group, noted at the ceremonial laying of the foundation stone on October 17, 2018: "At 190 meters high, ONE will decisively shape the Frankfurt skyline. With nhow Frankfurt, we are creating an urban location in the middle of the financial district that connects the international financial world with Frankfurt's local flavor. We are very pleased to have a strong partner on our side with CA Immo, with whom we can realize our seventh hotel in this important location. "
nhow is the urban design and lifestyle brand of NH Hotel Group
nhow is the urban design and lifestyle brand of NH Hotel Group. Each nhow hotel has a unique personality, inspired by the city in which it stands. With nhow Hotels, NH Hotel Group breaks new ground and combines contemporary architecture and design by renowned impulses such as Matteo Thun (nhow Milan), Rem Koolhaas (nhow Rotterdam / nhow Amsterdam RAI), Karim Rashid (nhow Berlin) or Teresa Sapey (nhow Marseille) with urban trends. With their eye-catching design, nhow hotels shape their surroundings and become a local hotspot and meeting place: not only for guests, but also for locals.
Expansion worldwide: Amsterdam, Brussels, London, Rome, Santiago de Chile & Lima
There are currently four nhow hotels in Berlin, Milan, Rotterdam - and most recently opened in Marseille in September 2018. In September 2018, journalists could have a first impression of the interior design on the construction site of nhow Amsterdam RAI, which deals with the subject of cultural diversity. The opening of the tallest newly built hotel in Benelux is scheduled for the first quarter of 2020. As early as mid-2019, nhow London will open as first nhow in the UK with 190 rooms under the motto London Reloaded in the trend district Shoreditch. Also in 2019, the opening of nhow Brussels is planned. Further nhow hotels will be built worldwide in the next three years in Rome, Santiago de Chile and Lima.
About NH Hotel Group

NH Hotel Group is a world-leading urban hotel operator and a consolidated multinational player. It operates close to 400 hotels and almost 60,000 rooms in 30 countries across Europe, America and Africa, including top city destinations such as Amsterdam, Barcelona, Berlin, Bogota, Brussels, Buenos Aires, Düsseldorf, Frankfurt, London, Madrid, Mexico City, Milan, Munich, New York, Rome and Vienna.