BINTER CANARIAS NOW OPERATING FLIGHTS BETWEEN MADEIRA AND PORTO SANTO← Back
---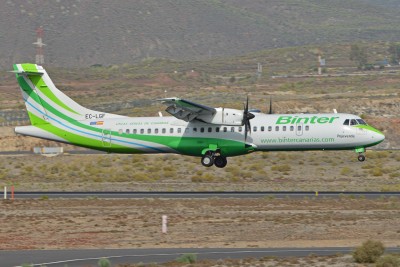 BINTER Canarias has started to operate the flights linking the islands of Madeira and Porto Santo, in the Madeira archipelago, after winning the tender convened by the Government of Portugal to manage this route, declared a public service obligation.
The inaugural flight of this Binter service in Madeira took off from the Funchal airport at 07:00 hours to land twenty minutes later in the Porto Santo airport, according to the company. The plane that covers this internal route departed at 8.00 hours back to the island of Madeira, where it was received by the Portuguese authorities at 0820 hours,
The presentation of the flight at the Funchal airport was attended by the Secretary of State for Infrastructure of the Portuguese Government, Guilherme D'Oliveira, and the Commercial Director of Binter, Miguel Ángel Suárez. The route between the two islands will be served by turboprop aircraft ATR-72, which will carry out two daily round trip services. The airline intends to take advantage of its entry into the Madeira internal flights market to put in service in the future routes from this archipelago to airports in Portugal, mainland Spain and Africa.