AEROTEL SOON TO OPEN IN GUANGZHOU INTERNATIONAL AIRPORT← Back
---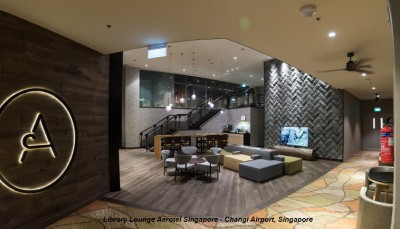 Leading Global Airport Hospitality group Plaza Premium Group announced the opening plan of Aerotel, the world's biggest airport transit hotel chain, in the upcoming new Terminal 2 of Guangzhou Baiyun International Airport. Aerotel Guangzhou will be the Group's sixth in the network, first in China as the Group continues to grow in China.
At the "Flyertea Travel Award Ceremony" taken place in Shanghai today, the Award's exclusive title sponsor Plaza Premium Group shared the exciting news with local media. Aerotel Guangzhou, in collaboration with Hangwan Hotel Asset Management Company of Guangdong Airport Authority, is scheduled to open in the second quarter of 2018 upon the opening of the New Terminal 2 at Guangzhou Baiyun International Airport. It will be located within the new terminal's secured area at the International Departure level, featuring 57 comfortably-furnished guest rooms that aim to provide well-rested and refreshed moments for departure and transit travellers.
With flexible hourly-booking options, Aerotel Guangzhou will offer three room types: Double, Solo and Solo Plus that are designed for different travel sizes from single, couple to group and family. Aerotel rooms will be fitted with quality bedding, powerful showers, bottled water, towels, slippers, hairdryer, cable TV as well as complimentary Wi-Fi. A Library Lounge is also available to provide refreshments, TV and reading materials. More hotel details including room rates, operating hours and the date of the Grand Opening will be announced in due course.
"We are very excited about our first Aerotel in China, working closely with Hangwan Hotel Asset Management Company of Guangdong Airport Authority to create a comfortable transit experience for both international and local travellers in the new Guangzhou airport terminal. Guangzhou Baiyun International Airport is the third busiest airport in China, I'm humbled with the opportunity given to Plaza Premium Group in creating a new airport experience," Mr Song Hoi-see, Founder and CEO of Plaza Premium Group said.
"With Plaza Premium Group's 20 years of experience in shaping airport hospitality around the world, we look forward to sharing our global expertise and resources in enhancing travel experience in China," Mr Song added.
Partnerships with key airports on lounge and transit airport hotel development
Apart from the collaboration with Guangdong Airport Authority, Plaza Premium Group has also recently signed up Intent for Business Cooperation agreements with various management groups of key China's international airports including Shenzhen, Beijing, Qingdao and Zhengzhou on common-use, VIP airport lounge and airport transit hotel planning and development.
In particular, an innovative, strategic "expertise and resource sharing" collaboration model is being developed between Plaza Premium Group, Beijing Capital VIP Services Management Company and Qingdao International Airport Group to chart a new direction in developing a hospitable and efficient airport experience for the new Qingdao International Airport that is scheduled to open in 2019.
"As China's economy continues to boom, it is estimated that the domestic and inbound tourists will surpass 5.7 billion in 2018, according to the recent report from China Tourism Academy and China National Tourism Administration. The new and better airport infrastructures planned in China's key travel hubs are certainly great efforts to cater to the increasing air traffic with more convenient, efficient and hospitable airport experience. With the strategic partnerships formed with various airport authorities, Plaza Premium Group's commitment in investing our expertise and resources in China becomes stronger," Mr Song added.
Plaza Premium Lounge, the Group's flagship independent airport lounge brand Plaza Premium Lounge currently operates its own-branded lounges across 37 international airports including Hong Kong and Macau. The Group also manages third-party lounges in China including a co-branded lounge concept partnering with China Eastern Airlines. Recently, China Southern Airlines has also appointed Plaza Premium Lounge to manage their lounges in the airline's base hub in Guangzhou, starting from April this year.